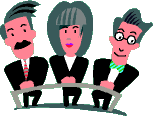 Background Investigations

Need to know about a potential employee? There are more than an estimated 80,000 cases of identity fraud each year. Don't fall victim to revenue loss or legal disputes due to poor hiring practices. We offer background checks in many areas including, but not limited to:

Bankruptcy records
Civil judgment and lien records
Credential verification
Credit reports
Criminal records
Education verification
License verification
Motor vehicle records
Workers' compensation records

In most cases you will have your results in less than five working days!
Do you need to discretely monitor your computer? In this high paced world of technology computer security is extremely important. You need to know what is being done on YOUR computer. Are your children in danger from internet stalkers? Are your employees stealing company time?
CLICK HERE to purchase your copy of Spector or Eblaster and you will know everything that goes on on your computers. Easy to install and takes only minutes to set up. It is the perfect supervisor when you can't be around all day. The program can be set up to be visible to everyone using the computer or it can be set up so you will be the only one who knows it is there!

Contact us now!
Return to home page