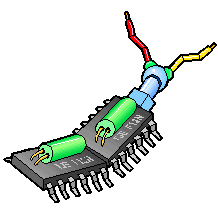 Counter Surveillance
Our staff has the knowledge and expertise to conduct extensive counter surveillance sweeps. We have the specialized equipment and years of experience searching out and locating hidden video cameras, listening devises (bugs) and telephone taps. We have conducted sweeps of personal residences, corporations, government offices and more. Periodic counter surveillance sweeps can avoid corporate trade secret violations, client loss to competitors and provide peace of mind. Contact us today to receive an estimate for your home or office!

Do you need to discretely monitor your computer?
In this high paced world of technology computer security is extremely important. You need to know what is being done on YOUR computer. Are your children in danger from internet stalkers? Are your employees stealing company time?
CLICK HERE to purchase your copy of Spector or Eblaster and you will know everything that goes on on your computers. Easy to install and takes only minutes to set up. It is the perfect supervisor when you can't be around all day. The program can be set up to be visible to everyone using the computer or it can be set up so you will be the only one who knows it is there!
Contact us now!
Return to home page